Palm Beach Roadrunners
April 18: 2015 DTR ENDURANCE CHALLENGE 5K-10K-13.1-50K 6:30 AM 50K Participants; 7:00 AM half-marathon participants; 7:30AM 10k; 8:00 AM (EST) 5k Jonathan Dickinson State Park 16450 Southeast Federal Highway, Hobe Sound, FL 33455 Registration: https://endurancecui.active.com/event-reg/select-race?e=12120554...

Hello Palm Beach Roadrunner Phyllis Frydman. How many miles per week do you run? I don't run as many miles as some but I still call myself a runner, it can be 12, 15,...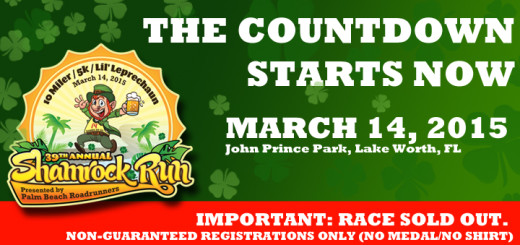 PAST EVENT: IMPORTANT: RACE SOLD OUT. NON-GUARANTEED REGISTRATIONS ONLY.    The 39th Annual Shamrock Run 5K and 10 Miler is sold out, but you can still register for a non-guaranteed entry.  As a non-guaranteed...