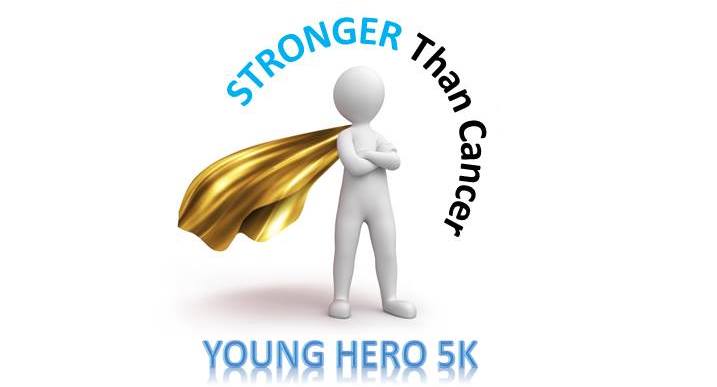 Tip #5
Test Your Progress
How is your training going? If you've followed our weekly tips, you should have learned a few things about your running and fitness level. This week we want you to "dip a toe in the water" and get an idea of where you are realistically for your 5k race.
For runners at any distance, you can get a good gauge on where your fitness level and training are at by performing a workout that will test your speed. The 800-meter (approx. 1/2 mile) distance test is commonly used for runners of the 5k all the way to the marathon. It is long enough for you to have to work to maintain the desired pace, yet short enough that you won't have to run a full 5k to see how you're doing. Here's how it works:
Below we've attached a pace chart. Find your goal 5k finish time or close to it, which is displayed in the third column. Match that with the pace per mile you need to run to achieve that goal, which is in the first column. For example, see how a pace of 9:00 minutes per mile will yield a 5k finish time of 27:58. Your benchmark "mini-test" workout for this week is to run the 800 meter (1/2/mile) distance at your race pace. And do this six times.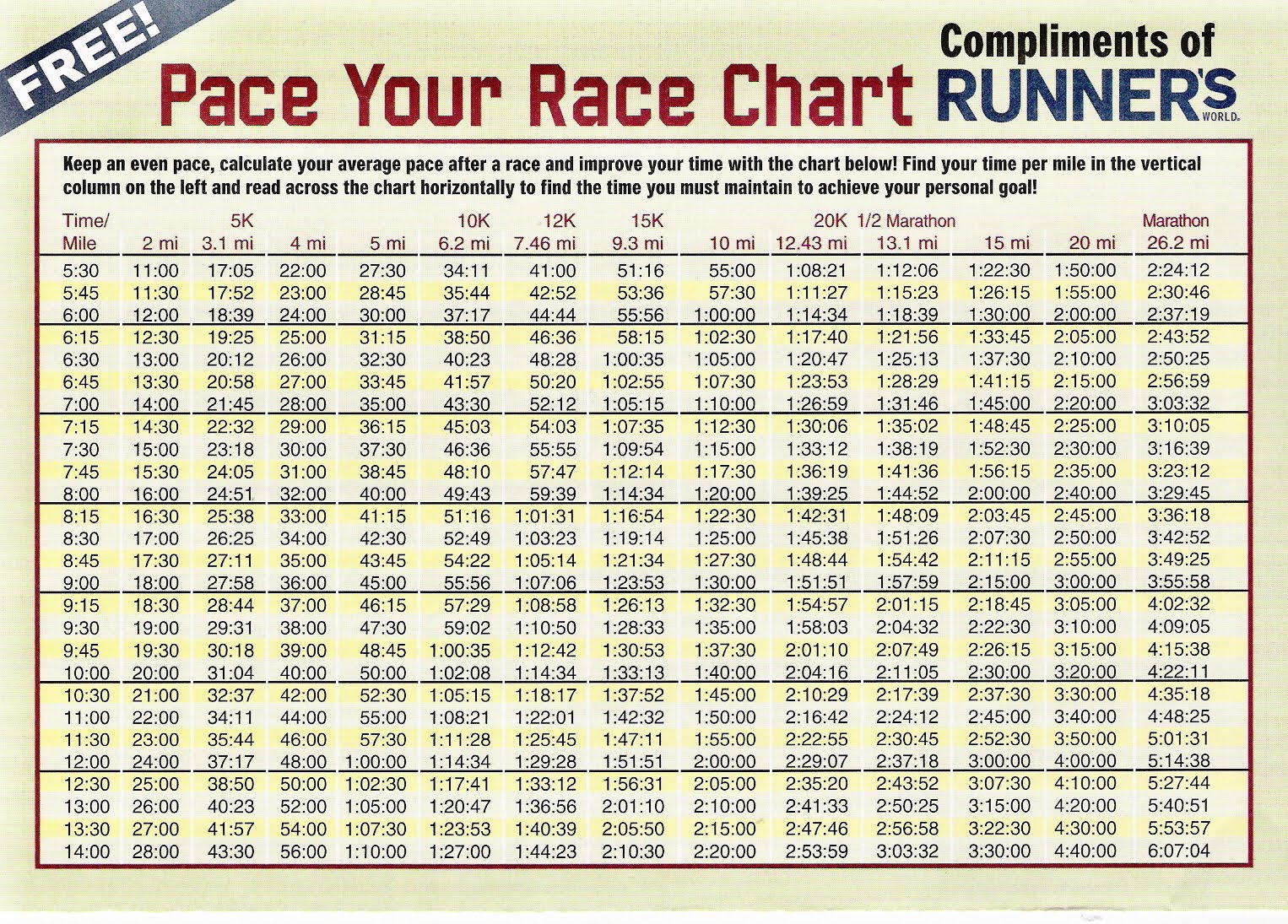 How, you ask? First, find a safe place to mark off the distance. A park or quiet streets work best. You can run 2 laps around a high school track, that is 800 meters. You can use a bicycle (or car) and a smartphone to mark off ½ mile of distance on the road for your test. When you have established an 800-meter course, warm up with a one-mile jog. Then run and time your first 800-meter interval. Rest approximately the same amount of time as that interval took, or less, in between intervals. Then start again. Do not let your heart rate come back to normal by resting too long! Your goal is to keep all 6 intervals at the pace you'll need to reach your race day goal. Don't try to go too fast on the first one, you want your final one to be the same pace. Once you have done the 6 intervals, do a slow mile cool down to finish the workout.
Although not an exact science, the 800-meter repeats will show you how far your training has taken you. Were you able to keep the pace for all 6-time trials? Good, maybe your next two weeks will have you increase your speed and adjust your goal to be a quicker time. If you were unable to keep the goal pace on the later intervals, you have time to adjust your training. If you couldn't keep the goal pace for any of the intervals, you may have selected a goal pace that is currently too fast for the upcoming 5k.
It is commonly said that "You can't fake fitness." This means that what you have put forth in the preparation is what you can hope to see come out on race day. This test of your training is a good way to see what is happening and how far you've come. Although not a guarantee, if you did well with the half dozen intervals at your goal pace, you're looking very good for the 5k. If you need to improve, there is still time to get more good running done prior to the POST 5k. Stay on your plan and keep that goal in sight. Because whatever time you earn the morning of the race will always be next to your name… let's make it a good one!
---
Tip #4
Know the course
If you'd like to increase your confidence for race day, this tip will serve you well! If you can become familiar with the running route and race morning surroundings, you'll have a better experience on Oct 7th. The POST "Stronger Than Cancer" 5k will be held in Abacoa, Jupiter, finishing at Roger Dean Stadium. Below are some ideas that work for this and any other run event you may enter.
Since you have a few weeks before the race, why not do a training run on the course? The race organizers will publish a course map shortly, allowing you to see where the mile markers (1, 2 and 3) are positioned. You will know the turns, the long straightaways, and where the run enters Roger Dean Stadium for the last dash to the finish line. If you can survey the route beforehand either on foot, a bicycle or by car, you will have a better feeling about the race.
On race morning, realize that some people have never been to Abacoa and won't know where to park, pick up their race number, use the restroom facilities, etc. If you're lined up behind them, that's extra stress you'd rather not spend. Be sure to arrive earlier than you believe is necessary on the morning of the 5k. This is NOT a good day for the "snooze" button! If you put yourself in a position to park nearby, visit the restroom, and be ready to go before the masses, you'll be able to concentrate on the running. Wouldn't that be better?
You can learn plenty from touring the course route. You have trained at distances of 3 or more miles by now, so being able to equate the feeling of, "This is what I feel like at Mile #2" will be helpful. If you have the luxury of being able to run or ride the course in the morning, similar to race time, even better! Learning if there are shady or sun-exposed portions can help you decide if you're going to wear a visor, sunglasses, both, things like that. Why wait until race morning to discover these little things? Get them in your head now – those are confidence boosters!
The mental side of knowing the course allows you to "simulate" or visualize what things will be like race morning. As you continue training, you can tell yourself, "Here is where I make the final turn into the stadium, I know I'll be breathing hard, but I also know I'm so close to the finish, be strong!" Most folks won't have this point of reference. Look at the course map, visit Abacoa and the stadium area and give yourself an advantage that does not come from a gym or nutritional source. Your confidence will rule the day!
---
Tip #3
Lungs vs. Legs
The 5k distance is challenging. You'll see the best runners in the world collapse as they exhaust all of their effort getting to the finish line. How on earth can we possibly train for this? From a first-timer to the weekend warrior right up to the local running stars, the end result is determined by your preparation. How closely can you mimic to what's going to happen and what you're going to feel like? Wouldn't it be great if you knew the truth about the 5k?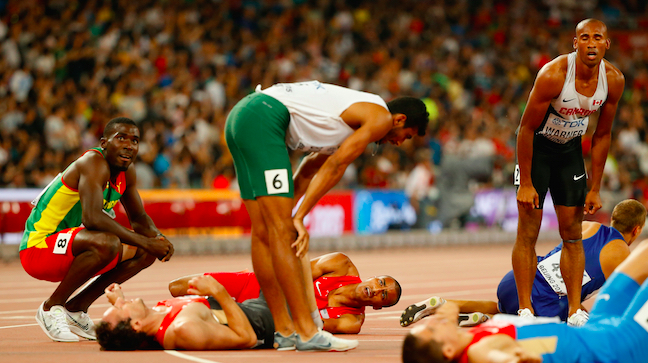 The truth: The 5000 meters or 5k is a demanding distance because it taxes your legs and your lungs. If we were training for a short sprint, pure leg speed would be our limiting factor. In the 5k, your limiting factor will almost always be your rate of breathing. Seldom do you see someone finish a 5k and find themselves physically unable to walk back to their car after catching their breath. More common are folks that give their all to get to the finish and find they couldn't go another 200 feet to the next streetlight. They have tapped out all of their lung capacity. Once they catch their breath, they are fine chatting about the race and usually conspiring with friends when they can run another one to better their time!
If you're following our tips, last week we covered the three types of training runs you'll encounter. That will prepare your legs for the speed and the distance. Mentally, you need to get used to what the feeling of tired lungs brings. Your speed workouts will simulate this. A good idea is to practice running at your desired race pace to get the "rhythm" of your breathing while your legs are doing their job. Each person's pace and breathing are unique. You will discover what is comfortable and where you find yourself thinking "How much longer can I sustain this?"
The best take-away from this week's tip is to be involved mentally when your training involves breathing above what you're used to on a normal run. Ideally, you should break your race into several segments. Each one of the three miles should be taken independently. "I cannot empty my tank too soon, but I have to keep my foot on the gas to finish well" should be your mindset when the race begins. If you've done your training properly, the first two miles will be work that you can handle. The third mile you'll be at a point of strain, you're really working hard now. You'll be concentrating on breathing, keeping your pace and convincing yourself NOT TO STOP. That last bit, the .1 of the 3.1 miles when you can see the finish line – is your final kick. This is "empty the tank" time!
Knowing what your breathing feels like when tested is something you will work on while training for your race. You will benefit tremendously in your confidence and performance when you know what your legs and lungs are capable of. Think this way during your training!
---
Tip #2
Your Main Three Runs – To prepare for your race, we suggest incorporating these three elements into your running each week:
Run for Speed
Run with Power
Run for Distance
This means that you should dedicate one run per week to each of the three above concepts. You can do additional runs if your schedule permits. Here is the reasoning behind the three types of training runs…
Run for Speed – Each week, you should have a run that you perform over a given distance while timing your effort. You can look to first maintain the same speed over that distance, then to improve the speed a small amount each week. Since you are training for a race, don't allow your body's first "race effort" to occur the morning of the event. This does not mean that your speed training is as fast as your race day effort, but noticeably faster than you would deem comfortable. You will be somewhat uncomfortable going fast on race day, make sure you practice this once per week.
Run with Power – There's no secret here, a stronger engine will deliver a better performance. Your legs will develop more power by giving them a workout that concentrates on harder than normal exertion. Three good examples of this would be to find a hill (Our intracoastal bridges are a good place) to run up repetitively, or use stairs or school bleachers for repeated runs up and down. The third option would be to use a treadmill and its incline setting, best for rainy weather or midday workouts. Putting in quality time building strength will aid your efforts to run the 5k distance well.
Run for Distance – This one is really important! For your legs and your mind, it's important that the 5k distance (3.1 miles) is not daunting or intimidating. Many high school coaches condition their young runners to become used to running between 4-6 miles in order to compete at the 5k distance. Once a week, look to run at a comfortable pace with a goal of increasing your distance to get to between 5 and 6 miles before your 5k race. You will be filled with confidence on race day when you "only" have to go 3.1 miles to finish!
---
Tip #1
Make the Commitment – Congratulations! You've just performed the second most important task in road racing – clicking the mouse and registering for the event. (Completing the race will serve as the most important task) This commitment on your part does two things – it supports a terrific cause – Pediatric Oncology, and it puts you in a position to begin taking the steps necessary to complete your best 5k.
We advise you to dedicate at least 3 runs per week to your 5k training. That should be the minimum. If you can or want to add in additional runs, that will help. Do not run every day of the week, one day should be designated as a rest day from running. In the first week, decide which days and times best fit your schedule. Some prefer the mornings while others look to end their day with a run. The race is in the morning, so some familiarity with running early will be helpful. In South Florida's heat, middle of the day running is not the best approach for a 5k event. Make sure you have run shoes that fit comfortably and have some cushioning left. Trying to squeak a few more miles out of worn shoes can lead to sore knees, ankles, and hips. We will address the 3 best workouts that you should be using in next week's tips. For this first week, feel good about entering this event and shake the cobwebs off. Find running routes you're comfortable with and let the training begin!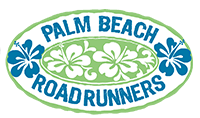 – Dave Masterson, Palm Beach Roadrunners