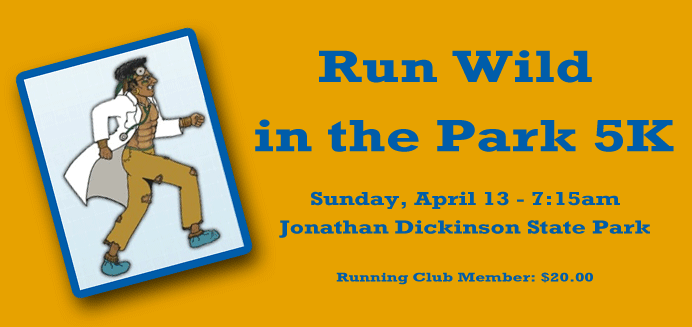 Run Wild in the Park 5K
Date: Sunday, April 13, 2014 @ 7:15 AM (EDT)
Address: Jonathan Dickinson State Park 16450 SE Federal Hwy
Hobe Sound , FL 33455
Registration Closing Date: Online registration closes April 12, 2014, or race day registration April 13 at registration tables until race start.
Link to Registration: http://www.active.com/hobe-sound-fl/running/distance-running-races/run-wild-in-the-park-5k-2014
Organizer's Website: http://www.jupitermedicalacademy.org/
Running Club Member: $20.00
Enjoy a run in the wild in pristine Jonathan Dickinson State Park. Lookout for wildlife as you run along paved roads on a fast USATF certified 5k out and back course from the river's edge. Start and finish chip timed by Accuchip. Prizes for top three finishers in each age category and for overall male and female. Parking is immediately adjacent to the event right next to the river in Jonathan Dickinson State Park.
Park entrance fee is covered by your race registration. Once you enter the park you will need to drive all the way to the end of the road (we will have signs and people directing parking) to the parking lot. Race Day Registration and Packet Pick-Up opens at 5:45 am at the park on April 21, 2013 and closes just prior to race start at 7:15 am. Pre-registered racers can pick-up their chipped bibs at the preregistration race tables which
RUN WILD IN THE PARK 5K RUN/WALK – SUNDAY, APRIL 13th – JONATHAN DICKINSON STATE PARK – RACE TIME 7:15am This event provides scholarship opportunities to graduating seniors in the Academy.
RACE INFORMATION:
Race is open to all ages (young children must be supervised by an adult) Prizes will be awarded as follows:  Overall Male and Female, Top 3 finishers in each age category.
Park entrance fee is included in the 5K registration fee.  Please arrive to the park before 7am because the road leading to the parking lot will be closed just prior to race start time at 7:15am.  Expect it to take 5-10 minutes to reach the parking lot at the start line once you enter the park. Car pooling is appreciated to ensure all racers are able to park near the start/finish line. Snacks and drinks will be provided.
Race course is certified by USATF. This race will be chip timed by Accuchip for both start and finish to ensure accurate results.
T-shirts and race bibs will be provided on race day. Pre-registered runners/walkers will have a dedicated table with their items listed by alphabet.
Race day registrations will be accepted until just before race starts.