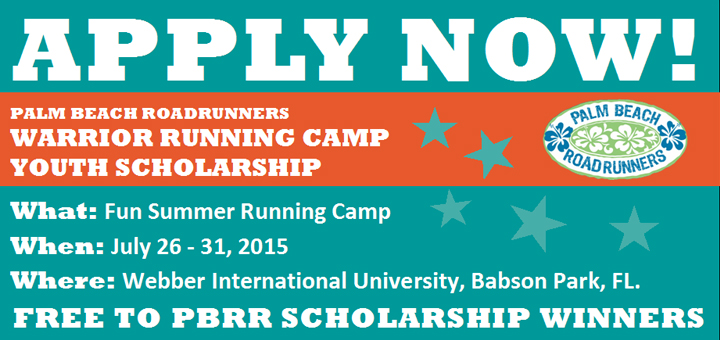 PAST EVENT: Apply now for the Palm Beach Roadrunners Warrior Running Camp Youth Scholarship!
Who: Scholarships are available for local Middle and High School Runners
What: Fun Summer Running Camp
When: Sunday, July 26th, 2015 – Friday, July 31st, 2015
Where: Webber International University in Babson Park, Florida
Why:  To help you prepare for your upcoming cross country season with a great week of running and fun!Cost:  $430 (covers room and board for the week)  
FREE TO PBRR SCHOLARSHIP WINNERS

The Warrior Running Camp in Florida is going to be the most RIDICOUSLY FUN running camp of the entire summer with a large variety of summer camp sports, games, and activities! This exciting Running Camp is designed for middle school and high school aged runners 12-17 years old.  Running camp campers are separated into smaller groups based on their running ability! This allows fora fun and safe running camp experience where campers will feel comfortable
and have a great time!
Download Application Form 2015: Application2015
Application deadline: Friday May 22, 2015


Warrior Running Camp Website: Click here
Questions about the scholarship? Please contact media@palmbeachroadrunners.com