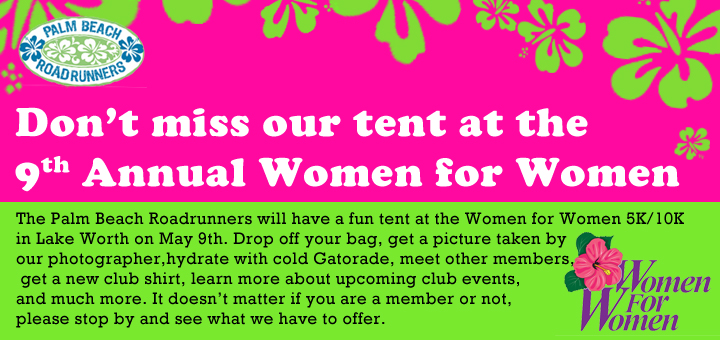 PAST EVENT On Saturday May 9th, the gun will go off for the 5th Annual Women for Women 5K/10K, at Bryant Park in Lake Worth.
The Palm Beach Roadrunners have plans for a fun tent at the 9th Annual Women for Women 5K/10K with lots of exciting news and information about upcoming events. It doesn't matter if you are a member or not, please stop by and see what we have to offer.
Drop off your race bag and someone will be at the tent the entire time to watch over it. Get a picture taken in our photo booth. Rehydrate with a cup of cold Gatorade.
Mark your calendar! Come see us to learn about the VIP bus trip that we are planning for the October 4th Key Biscayne Half Marathon/10K down in Miami. It will be a race of natural beauty. An air-conditioned bus departing from and returning to West Palm Beach, restroom, cold refreshments, snacks and the best part of the deal: your bib, race shirt and goody bag will be picked up for you and awaiting. Bring your friends and join in a great day.
Never raced more than 5K or 10K, but have always wanted to run a marathon or a half? We will be starting a marathon training program that will take you step by step to the finish line. Some of the features: training schedule, Saturday group runs, education on proper hydration, nutrition, and energy gels. The program will give you all the support to help you fulfill your goal.
A Palm Beach Roadrunner membership has a lot of value, beside the Pies/Classic/Shamrock race registration discounts, we offer Saturday Group runs, great fashionable club shirt  and 10% off at local running stores and more. Come talk to us on race day to learn more.
After your race, run to our tent manned by 4 of the nicest guys you will ever meet (maybe).  See you Saturday at the race!