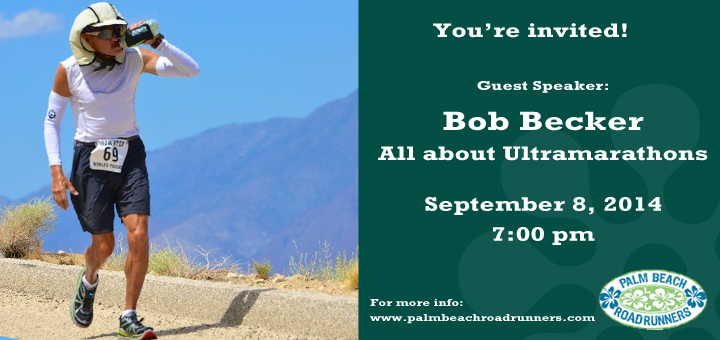 Guest Speaker: Bob Becker – All about Ultramarathons
When: September 8, 2014 – 7 pm
Where: Chamber of Commerce, 401 N Flagler Drive, West Palm Beach
RSVP: media@palmbeachroadrunners.com
Join us for this special educational lecture by Bob Becker elite Ultramarathon athlete and Ultra event Race organizer.
If you have ever considered the challenge of doing long distance Ultra events or putting a team together to do a long distance race like the Keys 100.
Bob will discuss his experiences as an Ultra athlete in "The Badwater" which is considered the most difficult long distance event as well as other events like the Des Sables 150 miler in the Sahara Desert. Bob has run many marathons and been part of the support runners for other athletes in Badwater as well as other grueling events. He will discuss points to consider, how to begin training, what might be expected and what support is needed to run one of these events.
If you have any interest in doing a long distance event or are a runner that would love to hear some amazing stories from one that has been there you will want to attend this lecture.