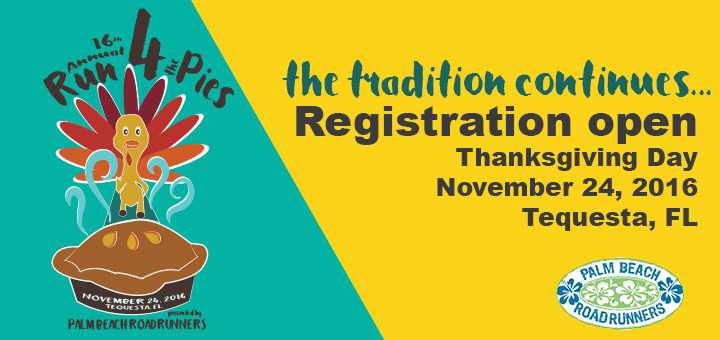 If you won an award but did not collect it on race day, they are at
Run & Roll ~ 330 Clematis St, West Palm Beach, FL 33401 (561) 650-1200
The tradition continues…
Thanksgiving Day, November 24, 2016
16th Annual Run 4 the Pies race begins at the Village of Tequesta Parks & Recreation (399 Seabrook Rd.) 
Get Directions
Pumpkin 1-miler: 7:15AM
Kid's Dash: 7:15A
16th Annual Run 4 the Pies: 8AM
---
PACKET PICKUP
For your convenience there will be a packet pickup (chip, bib & shirts).
Important: If you are picking up for a group of more than 3 people including yourself, you have to send the following information in an email to madeleine@pbrace.com no later than 4:00PM the day before pick up: 1) Name of the person picking up, 2) first name, last name and date of birth of the members in your group. Your group packet pickup will be confirmed in a return email.
Saturday, Nov. 19th 10AM-1PM at Johan's Joe 401 S. Dixie Hwy West Palm Beach, FL 33401 (at the intersection of Fern Street and Dixie)
Wednesday, Nov. 23rd 11AM-6PM at Good Shepherd Church, 402 Seabrook Road, Tequesta, FL 33469
Thursday, Race Day 6AM-7:45AM at the race site. Please note that shirt sizes are guaranteed for the first 1,400 registrants.
---
 THE TRADITION CONTINUES…..A NEW ONE BEGINS!
New this year: Virtual Race and Pumpkin 1 Miler
This year we have added a Virtual Race –  a race that can be run at any location. You can run or walk, use the treadmill, go outside or participate in another race. You can run your race at your pace and wherever you like. After the Pies race we will send you the following:
Finisher's Medal, Long Sleeve Tech Shirt, Race Magnet, Race Bib.
Also, new this year, we have added a 1-mile race, the Pumpkin Miler, for the age 12 & under runners. The exciting course takes you over the bridge and then back to the finish line to the cheers of hundreds of spectators. Awards to the first 3 male and female finishers.
Pumpkin Milers will receive a tech tee shirt, finisher's medal, personalized bib and a miniature apple pie. (There will not be any age group awards)
Register here for a charity slot or for the Kid's Dash. All other levels SOLD OUT: https://register.racepartner.com/runforthepies/