Hello Palm Beach Roadrunner Leslie Schiller, 57.
How many miles per week do you run?
-Between 25-30
Why do you run?
-It is a great way to clear my head. I feel I can solve all of my problems during (of course I usually can't remember when I get home). I love the feeling you get running-there is absolutely nothing like it. I believe that statement describes a true "runner's high" best.
What are you currently training for?
-My goal is to run a ½ marathon a month thru the season; there are so many right in our own backyard. It is a great way to stay in shape and keep your base miles up.
Do you prefer to run alone or in a group?
-Until this past summer I would have said alone; however, I now run with the most terrific people dubbed "The 20 Milers", all members of the Palm Beach Roadrunners. I am so lucky to be a part of this group and truly look forward to our early Saturday morning runs around Palm Beach.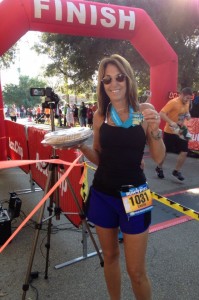 What is your favorite race distance?
-I think I love them all but for different reasons. ½ marathons always test you. 5K's are all or nothing. I love the competition and I still get butterflies at the start of each and every race regardless of the distance.
What is your favorite quote?
-"Think Strong, Run Strong"
What is your most memorable race or run?-It would have to be the New York City Marathon for sure. It was number one on my bucket list. Having my husband, family and friends line the streets of NY with signs of encouragement and be there at the finish line was unforgettable. There is no greater feeling than running in your hometown with such love and pride.
In February Leslie will be running the A1A Half Marathon in Ft Lauderdale. We wish her good luck! Update: We checked in on Leslie after the A1A half marathon. She said it was a perfect day for a race. She ran a PR and qualified for the New York Marathon! Congratulations.
Published on January 20,2014
---
Would you be interested in being our Featured Member. Please send us an email: media@palmbeachroadrunners.com to learn more.