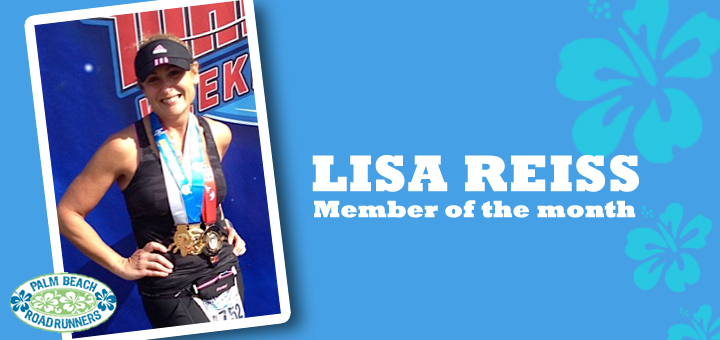 LISA REISS – MEMBER OF THE MONTH – PALM BEACH ROADRUNNERS
Hello Palm Beach Roadrunner Lisa Reiss.
How many miles per week do you run?
I run about 20-25 miles a week.  I build from there when I am training for a long distance race.
When and why did you start running?
I started running in about seven years ago in Juno Beach.  A friend invited me to run with her.  She kept asking me to join her for bridge workouts, track and long runs.  After our 15 mile run, she asked me if I wanted to sign up for the marathon she was doing and I said, "no thank you, I'm never running that far!"  After my 18 mile run with her, I realized I had a love for distance running.  I have completed my tenth marathon this past year.
Why do you run?
I think clearly when I run.  Besides running for fitness, it is definitely a stress reliever. 
I hope to share what I have learned and encourage others to accomplish their goals.
When is your next race?
I am training for some triathlons, including Ironman Florida and the South Florida Storm Series of Half Marathons.
Do you prefer to run alone or in a group? 
There are times when I enjoy running alone for my quiet time, but I mostly enjoy running with a group.  It's great getting to know other people and chatting on long runs. It makes the time fly by.  I also enjoy the camaraderie and encouragement that comes with running in a group
Favorite race, run or distance:
I love running the marathon distance.  I enjoy choosing destination races.  I have found marathon training to be a journey from the beginning of training to race day, and I always seem to learn something more about myself.
Highlight of running or biggest accomplishment:
The highlight of my running and biggest accomplishment to this day has recently been becoming a running coach. I coach the Jeff Galloway Run/Walk Half Marathon and Marathon training program. I am glad that I have knowledge and enthusiasm to give to others.  I have met so many great and enthusiastic people who have set goals for themselves.  I hope to share what I have learned and encourage others to accomplish their goals.
Dream run, race or accomplishment:
I have two dream runs… The Great Wall of China Marathon and The Midnight Sun Marathon in Alaska.
Favorite thing about running:
The beautiful scenic training runs along the beach.
What inspires you?:
What inspires me…  any challenge.
Favorite quote:
"You must do the things you think you cannot do", Eleanor Roosevelt
Thank you Lisa. Good luck with your training and races!
Published on August 24, 2015
---
Would you be interested in being our Featured Member. Please send us an email:media@palmbeachroadrunners.com to learn more.